Electrical Principles, Equipment Grounding, and Jobsite Safety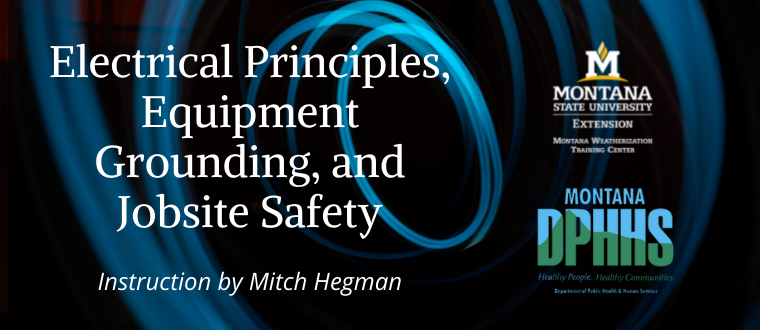 | | |
| --- | --- |
| Dates: | August 30, 2022 |
| Meets: | Tu from 8:00 AM to 5:00 PM |
| Location: | Montana Weatherization Training Center - Bozeman |
| Cost: | $250.00 |
Sorry, the signup deadline has passed.
This 6 to 8-hour interactive course is fashioned to be of value to everyone from a handyman homeowner to a licensed electrician. The training begins with basic electrical theory and gradually ascends into exploring the various wiring methods likely to be encountered by anyone working on both dwellings and commercial occupancies. This is, first and foremost, safety training. At the same time, this training is intended to explain the "how" and "why" of electrical system construction, function, and the associated hazards. Limited reference will be made to the National Electrical Code, Various OSHA Standards, and the Standard for Electrical Safety in the Workplace (NFPA-70E).

Montana Weatherization Network members may take this course at no cost. Use the MT WAP Registration option to register with a $0 fee.
For questions, contact the Training Center at classes@weatherization.org or 406-586-0070.

To return to Montana Weatherization Training Center website please go to weatherization.org


Fee Breakdown
| Category | Description | Amount |
| --- | --- | --- |
| Course Fee (Basic) | Registration Fee | $ 250.00 |
| Course Fee (Alternate) | Montana WAP fee | $ 0.00 |
Montana Weatherization Training Center - Bozeman
751 Osterman Drive
Suite 101
Bozeman, MT 59715
Mitch Hegman
Mitch is a Master Electrician, licensed in the State of Montana, and has 44 years of experience in the electrical industry. He has founded and operated two successful contracting firms, and is the former Training Director of the Montana Joint Apprenticeship and Training Committee.
He has 15 years as a professional educator, having trained over 500 electrician apprentices, and has served as a subject matter expert on several national curriculum development committees.
The occupational electrical class is for workers or hobbyists interested in learning more about basic electricity, safety related to the use of electricity, and common wiring methods. The occupational electrical class might especially benefit anyone who may interact with electrical systems in some manner: appraisers, weatherization techs, first responders, workers who regularly work with (or near) electrical equipment and machinery.
8 hours of Code CE credit to MT State Electrical Board.

This course has 8 Contact hours and can qualify as 4 continuing education units (CEUs) toward Home Energy Professional Certification through the Building Performance Institute (BPI).
Schedule
Presentations will begin at 9 AM on Monday, July 18th in Norm Asbjornson Hall on MSU campus. The symposium will run until approximately 5 PM. A comprehensive list of speakers will be included here has attendance is confirmed.
Keynote Speaker
Our keynote speaker is Professor Martin L. Dunn. He is a professor and dean of the College of Engineering, Design and Computing at the University of Colorado Denver. He has previously served as the founding associate provost for research at the Singapore University of Technology and Design; as a program director in the Civil, Mechanical and Manufacturing Innovation Division at the U.S. National Science Foundation (NSF), where he was the founding program director for the Design of Engineering Materials Systems program, and as the Department of Mechanical Engineering Chair at the University of Colorado Boulder, where he held the Victor Schelke Endowed Chair.

Dunn's research has focused on understanding the mechanics and physics of complex heterogeneous materials through a combination of theory and experiment and using this understanding to create methods and tools to design and manufacture new materials and components. This includes constitutive modeling of the nonlinear multiphysics response (thermal, optical, mechanical) of active polymers and polymer composites, computational design automation approaches based on shape and topology optimization and additive manufacturing based on SLA, DLP and FDM technologies. Most recently this has involved the development of computational design and manufacturing methodologies for multimaterial additive manufacturing, including the creation of a technology called 4D printing - an approach that integrates new computational design, manufacturing process and materials technologies to create environmentally responsive printed components.

Schedule will be updated as attendees are confirmed.
Food Coffee and snacks will be provided in the morning and lunch will be provided at noon. All dietary restrictions can accommodated be emailing the RMMS organizer.
Attendees will be directly contacted with lunch options.