Troubleshooting Equipment with Modern Multimeters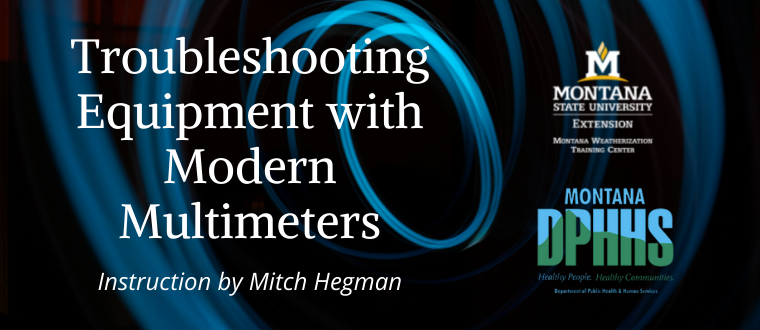 | | |
| --- | --- |
| Dates: | August 31, 2022 |
| Meets: | W from 8:00 AM to 5:00 PM |
| Location: | Montana Weatherization Training Center - Bozeman |
| Cost: | $250.00 |
Sorry, the signup deadline has passed.
This course is for anyone who wants to play with all the buttons on a digital multimeter (DMM). This training is highly interactive. Much of the course is hands-on and includes 21 separate lab exercises. A wide assortment of meters and DMM manufacturers are included in the labs. While this class does explore some technical aspects of electrical theory and meter functions, the training is designed to make even the most technical subjects accessible to most everyone. As with all Solid State Educators training, safety is the primary focus. This course tends to extend anywhere from 7 to 8 hours in length and is recognized for continuing education credit (8 hours of Code CE credit) by the Montana State Electrical Board.

Montana Weatherization Network members may take this course at no cost. Use the MT WAP Registration option to register with a $0 fee.
For questions, contact the Training Center at classes@weatherization.org or 406-586-0070.

To return to Montana Weatherization Training Center website please go to weatherization.org


Fee Breakdown
| Category | Description | Amount |
| --- | --- | --- |
| Course Fee (Basic) | Registration Fee | $ 250.00 |
| Course Fee (Alternate) | Montana WAP fee | $ 0.00 |
Montana Weatherization Training Center - Bozeman
751 Osterman Drive
Suite 101
Bozeman, MT 59715
Mitch Hegman
Mitch is a Master Electrician, licensed in the State of Montana, and has 44 years of experience in the electrical industry. He has founded and operated two successful contracting firms, and is the former Training Director of the Montana Joint Apprenticeship and Training Committee.
He has 15 years as a professional educator, having trained over 500 electrician apprentices, and has served as a subject matter expert on several national curriculum development committees.
Anyone who uses a digital multimeter at work and would like to learn more about them or anyone simply wanting to learn about them.
This course has 8 Contact hours and can qualify as 4 continuing education units (CEUs) toward Home Energy Professional Certification through the Building Performance Institute (BPI).