Astronomy on the Fly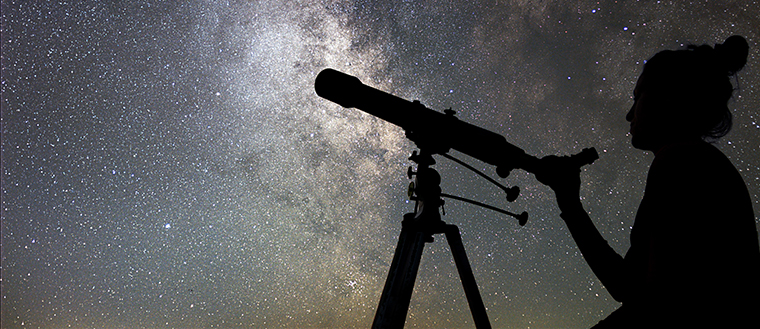 | | |
| --- | --- |
| Dates: | March 21 - April 18, 2023 |
| Meets: | Tu from 2:00 PM to 4:00 PM |
| Location: | Bozeman, MT - Hope Lutheran Church |
| Cost: | $50.00 |
Sorry, the signup deadline has passed.
Please note: This course program requires membership in a 2022-2023 OLLI at MSU Membership
Description
While we don't depend on the sky and its signposts the way our ancestors did, the universe still manifests itself in many ways as we go about our daily lives. This course will offer a primer on basic astronomy, including stars and planets, sky cycles, celestial events and how past cultures interacted with the sky. The course will also cover galaxies, black holes and other exotics, what we're learning today from the latest space missions and explorations, and ways to keep track of it all as we live our busy lives.
Course Takeaways
Participants will better appreciate how the universe works, how we fit in and how the cosmos manifests itself in our daily and yearly lives. In addition, they will gain or refresh astronomical knowledge, learn about discoveries, and become more proficient at finding their way around the sky.
Scholarships
Apply for a needs-based scholarship to take this offering.
Meet the Instructor
Jim Manning
Jim Manning is a past director of the Taylor Planetarium at the Museum of the Rockies in Bozeman. He's also worked at the Space Telescope Science Institute in Baltimore as head of the Office of Public Outreach and as executive director of the Astronomical Society of the Pacific in San Francisco before retiring in Bozeman. In addition, he's taught astronomy courses for college and general public audiences and knows his way around the sky.
| Date | Day | Time | Location |
| --- | --- | --- | --- |
| 03/21/2023 | Tuesday | 2 PM to 4 PM | Bozeman, MT - Hope Lutheran Church |
| 03/28/2023 | Tuesday | 2 PM to 4 PM | Bozeman, MT - Hope Lutheran Church |
| 04/11/2023 | Tuesday | 2 PM to 4 PM | Bozeman, MT - Hope Lutheran Church |
| 04/18/2023 | Tuesday | 2 PM to 4 PM | Bozeman, MT - Hope Lutheran Church |