Yellowstone's Dynamic History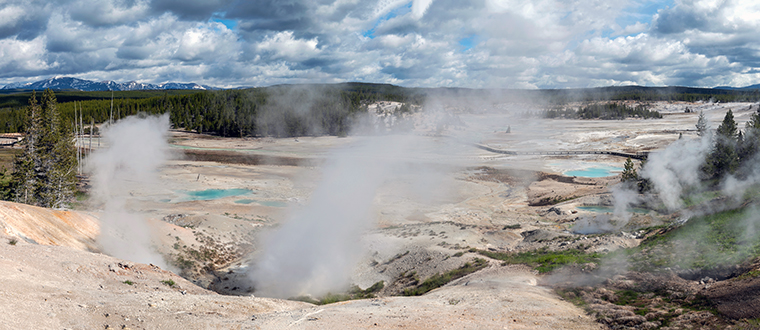 | | |
| --- | --- |
| Dates: | October 3-13, 2022 |
| Meets: | M, W and F from 10:00 AM to 12 N |
| Location: | Bozeman, MT - Hope Lutheran Church |
| Cost: | $50.00 |
Sorry, the signup deadline has passed.
Please note: This course program requires membership in a 2022-2023 OLLI at MSU Membership
Description
A unique combination of volcanism, glaciation, and climate change has shaped Yellowstone, and the legacy of these powerful influences will prove important for this iconic region far into the future. This class is an introduction to the region's dynamic history, including the shifting Yellowstone hot spot and its magma chamber, the consequences of past ice ages, and the creation of the present-day ecosystem.
Course Takeaways
Participants will better appreciate why Yellowstone is exciting to earth scientists worldwide and understand why Yellowstone is a true geo-ecosystem. They will also gain new insights into how geologists study past environments, history, and climate change.
Scholarships
Apply for a needs-based scholarship to take this offering.
Meet the Instructors
Cathy Whitlock
Cathy Whitlock is a Regents Professor Emerita in Earth Sciences at Montana State University and a Fellow of the Montana Institute on Ecosystems. She is nationally and internationally recognized for her research and leadership activities in the field of long-term climate and environmental change. Her studies of Yellowstone's ecological history began in the 1980s and continue to the present day, and she has expanded her research to examine similar places around the world. Dr. Whitlock served as lead author of the 2017 Montana Climate Assessment and is co-lead author of the 2021 Greater Yellowstone Climate Assessment. She has received numerous awards and honors for her science, and in 2018, she became the first person from a Montana university to be elected to the National Academy of Sciences.
| Date | Day | Time | Location |
| --- | --- | --- | --- |
| 10/03/2022 | Monday | 10 AM to 12 N | Bozeman, MT - Hope Lutheran Church |
| 10/05/2022 | Wednesday | 10 AM to 12 N | Bozeman, MT - Hope Lutheran Church |
| 10/07/2022 | Friday | 10 AM to 12 N | Bozeman, MT - Hope Lutheran Church |
| 10/13/2022 | Thursday | 10 AM to 12 N | Bozeman, MT - Hope Lutheran Church |